Active Age Healthy Walks – Walking Bingo!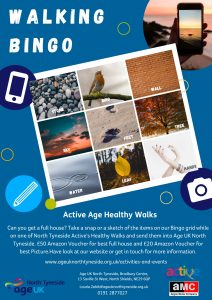 We have teamed up with North Tyneside Council to bring you Walking Bingo! It is very easy to get involved and can be enjoyed with the family, or even as a peaceful walk alone. 
All the information is on our website:
https://www.ageuk.org.uk/northtyneside/activities-and-events/walking-and-strolling-groups/
Download the poster here.
Regards

Jo Linton
Community Engagement Officer
Bradbury Centre
13 Saville Street West
North Shields
NE29 6QP
0191 280 8484
0872 1108 450
Jo.Linton@ageuknorthtyneside.org.uk
www.ageuk.org.uk/northtyneside