Chilli Studios News! – December 2022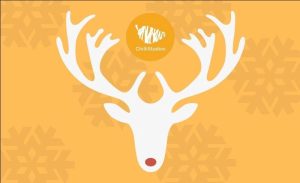 Welcome to our update on Chilli Studio's creative activity!
Festive Open Studio & Art SALE Fri 16th Dec 12-4pm
Chilli Festive Party Thursday 22nd Dec 1-4pm
December & January program of activity
Studio closed from Friday 23rd Dec and back open Jan Tues 3rd
Featured Artist of the Month
Shop ethically & alternatively this winter
Postcards for Peace, Artist Opportunity
Success in Kickstarter campaign, Community Photographic Darkroom
Support links
Scroll down for more info
---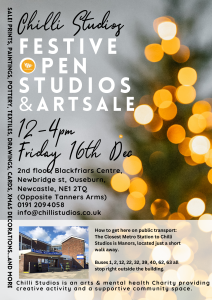 Festive Open Studios & Art SALE
The ethical & alternative Xmas shopping that gives back to Charity. 

Friday 16th December 12noon-4pm
@Chilli Studios, 2nd Floor Blackfriars centre, Newbridge st, Newcastle upon Tyne, NE1 2TQ ( Opposite the Tanners Arms)
01912094058

Come in, have a look around, buy some beautiful handmade gifts, have a sip of mulled wine and be inspired by our wonderful community, Charity and artists. (It will be Non-alcoholic wine and damn tasty! Nibbles also supplied).

As an "Outsider Arts" organisation we will be promoting the work of our members and studio as well as providing an alternative festive shopping experience! Chilli Studios will open it's doors for one afternoon as a fundraiser for our Studios and future ventures. It's also a nice chance to see the space and chat to us about what we do. Perhaps you or someone you know have artistic flair or need a space to creatively engage to better support mental health.
---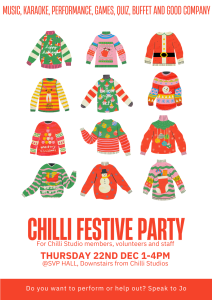 ---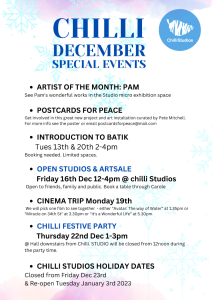 ---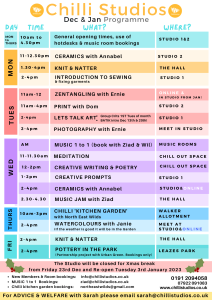 ---
New feature! ARTIST OF THE MONTH

We are excited to announce that we will be featuring a Chilli Studio Artist each month both online and through our micro Gallery Space in the Studio.

November: It was a delight to invite Rob Crawford for our first Artist of the month. Rob is a dynamic artist specialising in sculptural ceramics. 

December we are pleased to announce Pamela Cartwright's quirky and wondrous art will be featured.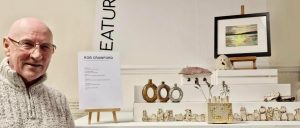 ---
CHILLI SHOP Update

Our shop is going from strength to strength and developing in exciting avenues! We are an ethical and local business where all proceeds go directly into our Charitable activity and day-to-day running of the Art Studio.
  
We now have our products stocked in two shops including The Baltic Shop and Number One Kirkharle. The Chilli Studios website also has a shop webpage where people can purchase our products to support the studio as well as on Etsy. See buttons below.

Our products are handmade and/or designed by our members, volunteers & staff within the studio. We have multiple ranges within the shop including our ceramics range 'East End Earthenware'. We have also thrilled to be starting to work with local artist and Chilli volunteer Almudena to help produce new products inspired by Chilli to raise money for the studio.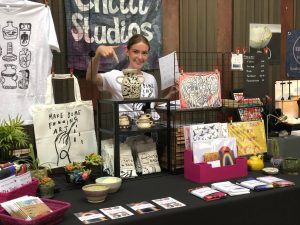 SHOP HERE! CHILLI WEBSITE shop
---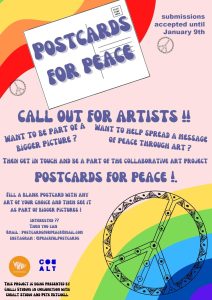 Be part of an exhibition/installation which will take your small artistic whispers and turn them into loud artistic shouts. All in the name of peace.

Postcards for peace is a mass participation Art installation/exhibition which uses small media as its base. Curated by Pete Mitchell, Chilli Studios.

The idea for this project came from a desire to promote a message of peace through small-scale artistic endeavour and a want to give as many people as possible to participate through the use of accessible small media.

The aim of the project is to take a number of the submitted pieces and amalgamate them into one or two much larger pieces of art. The first of these will be a large rainbow flag, which has its origins as a symbol of peace, but has now also come to symbolise inclusivity, liberation and representation in society. These sentiments serve as a perfect counterbalance to a sometimes disjointed world.
WHAT TO DO?
Participants will be asked to submit landscape-format A5 postcards or similarly sized pieces of thick paper or card which they have filled with any 2-D art of their choice. In order to facilitate the rainbow flag part of the project, those who would like to have direct participation in that will be asked to use one of the seven colours of the rainbow flag predominantly in their piece. These are purple, dark blue, light blue, green, yellow, orange and red. However, there are no obligations in that regard.

When participants are creating their cards, it is suggested that they stick to one or more of the following media : Ink, pencil, paint (watercolour, oil, acrylic), wax crayon, oil pastels or chalk.
All postcards should be produced in landscape format.

Final artworks will be exhibited at COBALT studios from Mid-February (Date TBC). However, exhibition dates are subject to change.

Email for more info: postcardsforpeace@mail.com

Send postcards or A5 (in landscape format) art to:
Chilli Studios
2nd floor
Blackfriars centre
Newbridge st
Newcastle upon Tyne
Ne1 2TQ
---


Light Painters Studio Fundraiser with Kickstarter
a Community Photographic Darkroom for mental health

FUNDED!!!!!!!!!!!
MASSIVE THANK YOU TO ALL SUPPORTERS FOR MAKING THIS PROJECT HAPPEN 🙂
A dedicated group of our volunteers from Chilli Studios are building a community and peer-led darkroom & processing studio with a mission to keep film alive, accessible and good for our mental health. As well as photography resources they plan to run workshops, talks, events, field trips and more.
Our motto is "A safe place to develop", and this project aims to provide its users with exactly that: somewhere that will be a learning resource for all who attend sessions there, in an environment that will be accessible, inclusive and nurturing.
We hope to inspire everyone who comes to the darkroom, and we are excited at the prospect of sharing our skills and enthusiasm for this art form with the community. This will be a peer-led facility, member-based, with an emphasis on promoting well-being through the medium of film photography.

The Darkrooom is almost ready to open and we hope to have further information to happily share in the new year!

For more information or if you would like to DONATE towards the development of this project email: sarah@chillistudios.co.uk
---
Support Links
---