Falling on Your Feet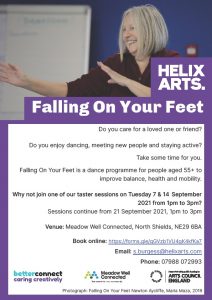 Download the flyer for our upcoming Falling on Your Feet programme at Meadow Well Connected as part of Better Connect programme (aiming to engage 350 carers across North Tyneside).
This is aimed at people aged 55 and over, living in North Tyneside who have caring responsibilities.
Why not join one of our taster sessions on Tuesday 7 & 14 September
2021 from 1pm to 3pm?
Sessions continue from 21 September 2021, 1pm to 3pm.
Sam Burgess
Senior Creative Producer
07988 072993
0191 241 4931 (Currently working out of the office)
Please join our mailing list for latest news and happenings www.helixarts.com
Find out more about us at: http://www.helixarts.com
See us on Facebook: https://www.facebook.com/HelixArts
Follow us on Twitter: http://twitter.com/HelixArts
View us on Instagram: https://www.instagram.com/helixarts/
Helix Arts, 2nd Floor, 51 Bedford Street, North Shields, NE29 0AT  Tel:  +44 (0)191 2414931