Healthwatch Newcastle Newsletter – 16 December 2020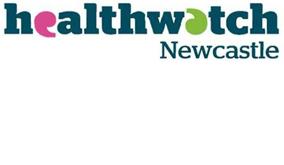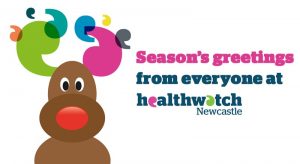 The Healthwatch Newcastle office will close for the holidays at 1pm on Thursday 24 December and re-open on Monday 4 January.
You can search, review and rate local services at any time on our website at http://tinyurl.com/Newcastle-feedback
Don't forget that NHS 111 is available 24 hours a day, 365 days a year when you need medical help or advice but it's not a life-threatening situation.
Thank you to everyone who gave us their views during what has been a challenging year — together we can help make our city's services better for all.
The Healthwatch team wishes you all a Merry Christmas and a happy and healthy 2021!
---
We're on Soundcloud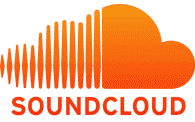 Enjoy this newsletter on the go by downloading our podcast at soundcloud.com/healthwatch-newcastle
---
COVID-19 vaccination — first phase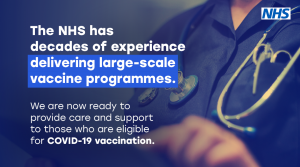 You may have seen in the news recently that Dr Hari Shukla and his wife, Ranjan Shukla, were the first two patients at the RVI in Newcastle — and two of the first people in the world — to receive the Pfizer/BioNTech COVID-19 vaccine on 9 December.
The NHS is offering the vaccine (two injections, given 21 days apart) to people most at risk from coronavirus.
At the time of writing, the vaccine is being offered in some hospitals to:
Some people aged 80 and over who already have a hospital appointment in the next few weeks.
People who work in care homes.
Health care workers at high risk.
The vaccine will be offered more widely, and at other locations, as soon as possible. The order in which people will be offered the vaccine is based on advice from the Joint Committee on Vaccination and Immunisation. Read more about 'COVID-19 vaccinations – first phase' on our website at www.healthwatchnewcastle.org.uk/covid-19
Please do not contact the NHS for a vaccination. Everyone will be contacted when it's their turn to be vaccinated.
Read more, including advice if you're of childbearing age, pregnant or breastfeeding, at https://tinyurl.com/coronavirus-vaccineUK
---
An update on our work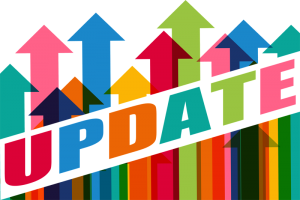 Since March 2020 we have been working hard to continue to gather information about people's experiences of health and social care services. Our information and signposting service and feedback centre have been up and running throughout, and we have been hearing about people's experience via these two services and via emails.
During recent months, we have also run a survey called 'COVID-19: your experiences of health and social care' and promoted the national Healthwatch England and Care Quality Commission 'Because we all care' survey.
We have pulled all of this data together and this has allowed us to identify some themes, particularly about GP practices.
Find out what people had to say at www.healthwatchnewcastle.org.uk/news/work-update
---
About our Healthwatch Committee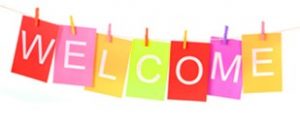 The work of Healthwatch Newcastle is governed by a Committee of volunteers who live and work in Newcastle. It informs the strategic direction of Healthwatch Newcastle and provides scrutiny and oversight of its activities, monitoring and reviewing the progress of the work programme. The Committee also advises and supports the staff team in delivering the projects we undertake.
 
Committee members come from a wide range of backgrounds and experience, but all care passionately about promoting access, quality and equality in health and social care for everyone living in our area. 
 
We are working to build the Committee membership to be as representative of the diversity of our local population as we can, so it can best reflect the real needs of everyone. Representatives of the different communities in the city can best help us understand the different perspectives and values which drive them.
 
We are very pleased to welcome a new addition to the Committee to join us in our work. Our new member, Idah Dodzo, lives in Newcastle and is a qualified social worker (not practising in Newcastle). Idah also works extensively with the black and minority ethnic community, including through her church. 
 
We are looking forward to Idah joining the Committee at our next meeting in January, when we will start a programme of induction and team building so we can develop a strong programme for Healthwatch Newcastle for the coming year.
 
If you are interested in becoming a Committee member please contact Kate Beattie on 0191 338 5720 or email info@healthwatchnewcastle.org.uk to arrange an informal discussion.
 
Read more about the Committee at www.healthwatchnewcastle.org.uk/about-us/healthwatch-newcastle-team
---
Healthwatch Committee Chair vacancy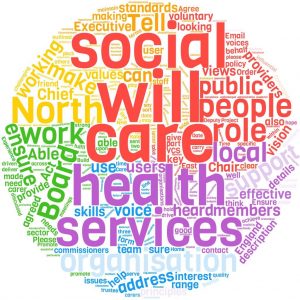 Are you someone with a strong desire to make a difference and the ability to work with people from a wide range of backgrounds?
We are looking for a Chair who can lead our Committee and continue the growth and success of Healthwatch Newcastle. The Chair leads the Healthwatch Newcastle Committee in its responsibilities around:
Upholding sound governance.
Providing strategic direction.
Building strong partnerships with key stakeholders.
This is a voluntary, unpaid role but travel and carer's expenses are available.
The closing date for applications is 12 noon on Friday 15 January 2021.
Interviews will take place week beginning Monday 25 January 2021.
Find out more and apply at www.healthwatchnewcastle.org.uk/work-with-us
---
Help us see what's going on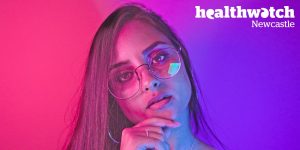 Since March 2020 we have been working hard with Healthwatch Gateshead to gather people's experiences of local health and social care services.
Right now, we especially want to hear from people who have contacted an optician in the past few months.
Have you or someone you know used an optician's service in Newcastle?
Take the 'Because we all care' survey at https://tinyurl.com/because2020
---
Other news
How will the Christmas COVID bubble work?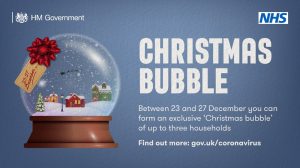 During the Christmas period in the UK, coronavirus restrictions will be eased to allow people to mix with a slightly wider circle of family and friends.
People will be able to form 'bubbles' of three households from 23 to 27 December. There will be no limit to the number of people in a household joining a bubble. If you have already formed a support bubble with another household then this will count as one household; therefore, you can join with two other households in a Christmas bubble.
Households in your Christmas bubble can't bubble with anyone else on different days. However, travel restrictions will be lifted over the Christmas period so you can form bubbles and visit families anywhere in the UK.
Find out more at https://tinyurl.com/xmas-bubbleUK
Guidance on shielding and protecting people who are clinically extremely vulnerable
Have you been identified as clinically extremely vulnerable? The government provided updated COVID-19 guidelines from 2 December 2020 which include:
Socialising inside and outside the home
Work
Education
Travel
Going to shops and pharmacies
Read more at https://tinyurl.com/shield-2-dec
If you need extra support, Newcastle City Council's Welfare and Wellbeing Team can help. Complete a form and someone will call you back to discuss the support you need when self-isolating. The Welfare and Wellbeing Team works from Monday to Saturday from 8am to 8pm.
Request support online at https://tinyurl.com/y3kuhu6e or call the helpline on 0800 170 7001.
Self-isolation period reduced from 14 to ten days
Changes to the required self-isolation period came into effect on Monday 14 December.
Self-isolation for contacts of people with confirmed COVID-19, and people returning from countries not on the travel corridor list, should now isolate for ten days instead of 14 days.
People who test positive for COVID-19 should continue to self-isolate for ten days from the onset of symptoms or ten days from point of taking a positive test if asymptomatic.
Find out about self-isolation at www.nhs.uk/conditions/coronavirus-covid-19/self-isolation-and-treatment/when-to-self-isolate-and-what-to-do
Think you need to go to A&E? Call NHS 111 first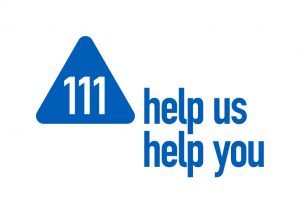 From Tuesday 1 December the NHS introduced a new system.
If you have an urgent but not life-threatening health problem you can now contact NHS 111 first to find out if you need to go to A&E. It's hoped this will lead to shorter waiting times and allow for social distancing in hospitals. However, in a medical emergency you should always ring 999.
NHS 111 can be contacted online at https://111.nhs.uk or phone 111 24 hours a day, 7 days a week. The service is free to use, including from a mobile phone.
Read more at www.healthwatchnewcastle.org.uk/news/think-you-need-to-go-to-ae
Tune in to 'Health matters'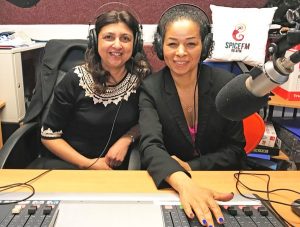 Tune into the 'Health matters' radio show to hear about the health and wellbeing issues that matter to you.
The final show of the year will be looking back at an eventful 2020.
Listen on 98.8 FM on Wednesdays from 10am to 12 noon or online at www.spicefm.co.uk
Catch up with previous shows at https://soundcloud.com/spice_fm