Healthwatch Newcastle Newsletter – 19 December 2019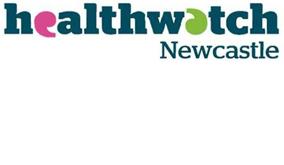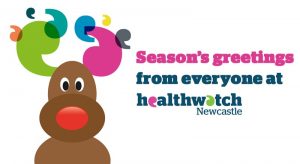 The Healthwatch Newcastle office will close for the holidays at 2pm on Tuesday 24 December and re-open on Monday 6 January.
You can still call us during office hours over the holidays if you need information about any local health or social care service. You can also search, review and rate services any time at http://tinyurl.com/Newcastle-feedback.
Don't forget that NHS 111 is available 24 hours a day, 365 days a year when you need medical help or advice but it's not a life-threatening situation.
Thank you to everyone who gave us their views over the past year — together we can help make services better for all.

The Healthwatch team wishes you all a Merry Christmas and a happy and healthy 2020!
---
Healthwatch Practice Participation Group Forum
Saturday 22 February, 10am to 12pm, Brunswick Methodist Church, Newcastle Upon Tyne, NE1 7BJ
During 2019—20, we are working to support GP practices to develop effective Practice Participation Groups (PPG). A PPG is a group of patients, carers and GP practice staff who discuss practice issues and patient experience to help improve the service. We are developing a Participation in Practice Award to help PPGs implement best practice and currently have around 12 practices piloting it. The outcomes will be shared with you next year.
We have also been approached by several other PPG members asking if we can support them too. As a result, we are launching a Healthwatch PPG forum which is open to all PPG members in Newcastle and Gateshead. The forum will be developed in partnership with the people who attend, which may involve some training alongside opportunities to share information and insights.
At our first meeting we plan to start by discussing the purpose of PPGs, followed by a discussion about the forum and what people would like it to be.
If you are a member of your GP Practice Participation Group and would like to attend the forum, please register at https://healthwatchppg-jan2019.eventbrite.co.uk, email info@healthwatchnewcastle.org.uk or phone 0191 338 5720.
---
Goodbye from me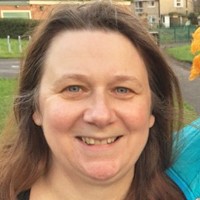 After almost four years at Healthwatch Newcastle I am leaving at the end of December. I have enjoyed my time here, especially meeting so many people from all walks of life, as well as learning so much by listening to people's experiences of health and social care. Thank you to everyone who has supported me during my time here.
I am looking forward to starting my new role in January 2020 as Engagement Manager at Byker Community Centre. Please feel free to pop in to say hello should you be in the area.
Best regards
Mel
---
Mental health services for children and young people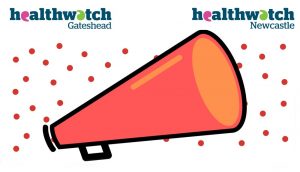 We've had 268 responses to this survey so far. We'd like to hit at least 300! In particular, we would like to hear more from dads and people from black and minority ethnic communities. So if there is anything you can do to help us spread this survey to these groups please do so.
The survey is for anyone aged 18 or under (or 25 or under and in local authority care), and for parents and carers. You must live in Newcastle or Gateshead to take part. There is an option to enter a prize draw to win a £25 voucher at the end.
Take the survey at www.surveymonkey.co.uk/r/cymh2019
---
Listen to us

Enjoy this newsletter on the go by downloading our podcast at http://healthwatchnewcastle.podomatic.com
We would like to produce the podcast in other languages. If you think you can help with this please email info@healthwatchnewcastle.org.uk or phone 0191 338 5720.
---
Other news and events
Newcastle's walk-in centres are now urgent treatment centres
From 2 December, the three walk-in centres across Newcastle became urgent treatment centres. Opening hours are from 8am until 10pm, 7 days a week.
The centres are staffed by GPs and nurses and will continue to see and treat patients, of any age, on a walk-in basis without an appointment.
The urgent treatment centres also offer additional appointments with GPs, including at evenings and weekends. Appointments can be booked through your GP practice and may also be offered via NHS 111 if an assessment of your symptoms suggests this is the best option for you.
Find out more at https://bit.ly/37ZtmGO
Severe hand eczema — people needed for trial
Do you suffer from severe hand eczema that is not getting any better? Steroid creams and moisturisers not helping? Does your hand eczema disturb your sleep? Are ordinary tasks like writing a huge challenge? The ALPHA study aims to find out which NHS treatment for severe hand eczema works best.
The ALPHA research team at the RVI in Newcastle is looking for volunteers aged 18 years and over with severe hand eczema which is not controlled on a daily (regular basis) with prescription steroid creams.
There is an online questionnaire that asks a few simple questions to find out whether you may be suitable to take part. If you don't have online access, phone 01274 365 163 where you can speak to an experienced Dermatology Research Nurse about the trial and whether it is suitable for you.
Find out more at https://ctru.leeds.ac.uk/alpha/patient-zone
Improving the health and wellbeing of girls and women
A survey of 3,000 women shows that large numbers find it hard to get advice and care near home. More than a third (37%) said they could not get contraception services locally and 58% could not get menopause services locally.
The Royal College of Obstetricians and Gynaecologists has been working on a blueprint for women's health services in conjunction with other groups and the government. Its report, called 'Better for Women', says women with busy lives struggle to get the healthcare and advice they need. It sets out a strategy for reshaping the present fragmented NHS systems that require women to see different nurses and doctors in a variety of specialised clinics, as well as their GP practice, for procedures that should be routine.
Read the report at www.rcog.org.uk/better-for-women
Social Work England becomes the new specialist regulator for social workers
On Monday 2 December Social Work England took over from the Health and Care Professions Council as the new specialist regulator for the profession.
Social work is about people and social workers support millions of people across the country every day. The purpose of Social Work England is to regulate the social worker profession so that people receive the best possible support whenever they might need it in life. They are committed to raising standards through collaboration with everyone who has an interest in social work, and they will also seek to promote confidence in the sector.
Find out more at www.socialworkengland.org.uk
Remote consultations and prescribing: call for evidence
The General Medical Council (GMC) is asking organisations and individuals with relevant expertise to share their experiences, views, data and insights about remote consultations and prescribing via telephone, video-link or online.
The consultation is based on five topics:
Evidence of risks associated with remote prescribing
Dialogue between doctors and patients in a remote context
Sharing information with other healthcare professionals
Additional safeguards that may need to put in place
Feedback based on operational experience
The deadline to respond is Tuesday 18 February 2020.
Find out more at https://gmc-mpts.smartconsultations.co.uk/consultations/66
One hundred thousand more people given personal health budgets
From 2 December, everyone eligible for an NHS wheelchair and people who require aftercare services under section 117 of the Mental Health Act has access to a personal health budget. Personal health budgets give people greater choice, flexibility and control over their health and care support. Over 70,000 people are already benefiting from them. As part of the NHS Long Term Plan, the health system will increase access so that up to 200,000 people can receive one by 2024.
Find out more at www.england.nhs.uk/personal-health-budgets