Healthwatch Newcastle Newsletter – 19 October 2021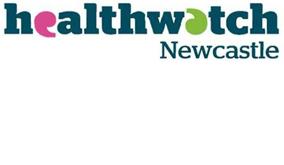 Volunteering can help save lives!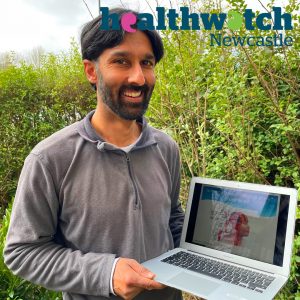 Volunteering with us can help develop skills, gain experience and make a difference. Volunteers play a vital role in helping people have their say on health and social care.
Raj Nair from Heaton is one of our volunteers. He's a teacher with a passion for healthcare and previously worked for the NHS. He's interested in health and sharing his knowledge and has a particular interest in strokes. Raj became an advocate after taking a speech language course and helps people who have had a stroke with their social justice rights.
Read more about Raj and stroke prevention at www.healthwatchnewcastle.org.uk/news/volunteering-lives
---
Out and about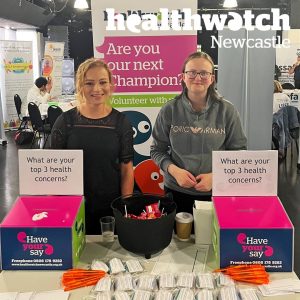 Office Manager Beth and our new Administration Apprentice Nikki (pictured above) went along to Newcastle University last week. It was lovely to meet students at a freshers' event and hear their views and concerns, including about mental wellbeing and sexual health.
If you're a student and need support with your mental health you can text STUDENT to 85258. The Student Minds charity also provides support in other ways. Find out more at https://studentspace.org.uk
Read about sexual health services in Newcastle at www.newcastle-hospitals.nhs.uk/services/sexual-health
---
We're here when you need us — just ask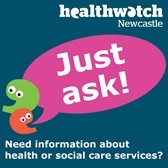 Our confidential signposting and information service can help you find the answers you need. We have helped people with many queries from patient transport to hospital to finding social care support. We can also make referrals to the Patient Advice and Liaison Service (PALS) and Independent Complaints Advocacy (ICA) on your behalf.
Get in touch
Our phone line is staffed during these hours:
Tuesday — 10am to 3pm
Wednesday — 10am to 3pm
Thursday — 1pm to 5pm
If you call outside these times please leave an answerphone message and we will get back to you. Call Freephone 0808 178 9282, text 07551 052 751 or go online at www.healthwatchnewcastle.org.uk/just-ask
---
Other news
Start breathing this Stoptober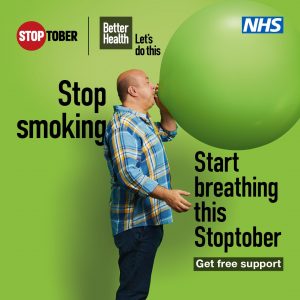 In 2012 adults around 459,000 adults smoked in the North East. Now there are around 325,000 smokers – a fall of around 134,000.
Stoptober is back and is calling on smokers in England to join the 2.3 million others who have made a quit attempt with the campaign since it launched a decade ago. Quitting remaining one of the best things a smoker can do for their health and there's lots of free support, including an online Personal Quit Plan.
Find out more at www.healthwatchnewcastle.org.uk/news/stoptober
New proposals for sexual health services to targeted groups in Newcastle
These prevention and support services are for vulnerable groups who may not seek mainstream sexual health provision. They're delivered in a range of local setti"`ngs across the city including community centres, sports clubs, churches and schools. Newcastle City Council's proposals are focussed on:
Hard to reach young people
People with learning disabilities
People at risk of sexual exploitation and/or sex workers
People living with HIV
Find out more about the proposals and take part in the consultation at www.letstalknewcastle.co.uk/consultations/info/348 (deadline is Monday 25 October).
Getting a COVID-19 vaccination without an NHS number
Did you know the COVID-19 vaccine is free to everyone in the UK? If you don't have an NHS number or aren't registered with a GP you're still entitled to a free vaccination.
You can have vaccinations at walk in centres and pop-ups, or book appointments as an unregistered patient through a local GP practice.
Find out more (available in more than 20 languages) at www.gov.uk/government/publications/covid-19-vaccine-information-for-people-without-an-nhs-number
National COVID Cancer Survey — participants needed
The National COVID Cancer Survey is evaluating antibody tests in people with cancer.
It is not clear what antibody levels are helpful and protective against future COVID-19 infection. This means that at an individual level, there is currently uncertainty about the exact meaning of the results.
If you live in England and have been diagnosed with cancer in the last year or are having cancer treatment you can participate (it's a finger prick blood test).
Find out more at https://covidcancersurvey.uk
The Little Orange Book
The Little Orange Book helps parents of under-fives in Newcastle with practical information about common childhood conditions. A new 2021 version has been launched, with even more helpful advice for parents and carers of babies and young children. The Little Orange Book provides up-to-date health advice and includes new sections on topics such as COVID-19.
Download the Little Orange Book at https://newcastlegatesheadccg.nhs.uk/your-health/children-and-young-people/little-orange-book
New mental health text support service
Newcastle United Foundation has launcheda a free 24/7 mental health text line for anyone struggling to cope — whether dealing with anxiety and loneliness, to issues around self-harm and suicidal thoughts.
Text 'BAG' to 85258 on any day at any time to be put in contact with a trained volunteer or clinical supervisor. Texts are completely free, anonymous and do not appear on phone bills.
Read more at https://tinyurl.com/dysw4c7x
How can your pharmacy help you?
Did you know that pharmacies provide advice and information on minor illnesses and ailments?
Find out more at www.healthwatch.co.uk/advice-and-information/2019-01-15/should-i-see-pharmacist-instead-doctor
What should I expect after being referred for mental health support?
Your mental wellness is as important as your physical health but seeking help can be daunting.
Read what to expect when you seek support for your mental health at https://tinyurl.com/rfn84bcp
About this newsletter
You can find copies of all our recent newsletters at www.healthwatchnewcastle.org.uk/about-us/resources
If you need this newsletter in another format please get in touch by emailing info@healthwatchnewcastle.org.uk or phoning Freephone 0808 178 9282.