Healthwatch Newcastle Newsletter – 21 October 2020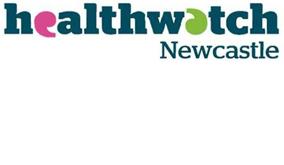 Listen to us!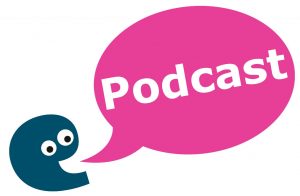 Enjoy this newsletter on the go by downloading our podcast at soundcloud.com/healthwatch-newcastle
---
Because we all care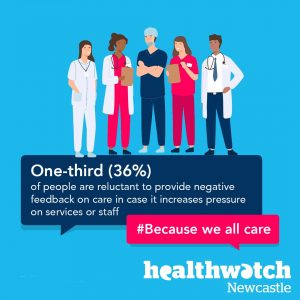 COVID-19 has affected all our lives and how we access all of our NHS and social care services. Services are doing everything they can to support you and your loved ones but they need our help to know how they can improve.
Research to date shows that just over half of people in the North East say they are more likely to take steps to improve health and social care services since the outbreak of COVID-19.
Join our national campaign and share your experiences of care.
Take the Healthwatch survey at https://tinyurl.com/because2020
If you would like assistance in completing the survey over the phone email info@healthwatchnewcastle.org.uk or call Freephone 0808 178 9282.
#BecauseWeAllCare
---
Accessing children and young people's health services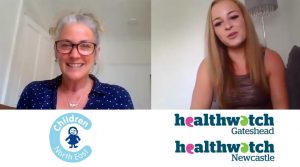 Healthwatch Newcastle is working in partnership with Healthwatch Gateshead and Children North East.
We're gathering local children and young people's experiences of accessing health settings. We'd like to hear from their parents and carers too.
Experiences can be shared in several ways — through online focus groups, 1-to-1 phone calls, via email or text and WhatsApp. Everyone who shares their experience can enter a draw to win a £25 voucher as a thank you.
If you run a group for children and young people in Newcastle, please also get in touch to see how we can work together.
If you have ideas for future topics for discussion, would like to join the forum or work with us, please email our Volunteer and Outreach Co-ordinator, Jacqui Thompson, at jacqui@healthwatchnewcastle.org.uk or text/WhatsApp/voice call 07538 857 627.
---
How COVID-19 shapes our work: the future of outreach
We are always looking at ways to connect with local organisations and gather views. It has proved very difficult this year for obvious reasons! So, we are exploring new ways to speak to people and listen to their current experiences.
On 8 October, Volunteer and Outreach Co-ordinator, Jacqui Thompson, held our first online forum to reach out to local organisations. We invited organisations to join us to discuss what 2020 had been like for them and their service users.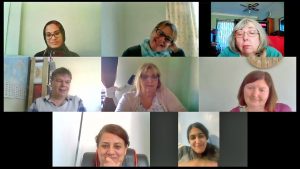 We also wanted to explore ideas about how outreach can work in this new environment. Problems caused by the suspension of treatment and services during the pandemic was a common theme in our discussions.
Thanks to everyone who attended the forum — you can read more about it at www.healthwatchnewcastle.org.uk/news/newcastle-outreach
If you have any ideas for future topics or would like to work with us, please email our Volunteer and Outreach Co-ordinator, Jacqui Thompson, at jacqui@healthwatchnewcastle.org.uk or text/WhatsApp/voice call 07538 857 627.
---
COVID-19 restrictions in Newcastle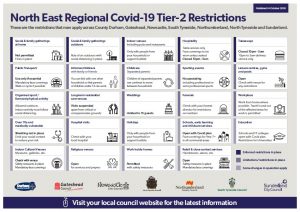 A new three-tier system of local lockdown measures came into force for England on Wednesday 14 October. These are medium, high and very high.
At the time of publishing this newsletter, Newcastle is in the 'high' category — tier 2. The table shows what this means in practice. Restrictions include no household mixing indoors, the 'rule of six' applying outdoors, and pubs and restaurants having to close at 10pm.
You can download a poster of the table above at www.healthwatchnewcastle.org.uk/news/tier-2-newcastle
Find out more about tier 2 at www.gov.uk/guidance/local-covid-alert-level-high
If you were previously shielding, the government has produced updated guidance to support those who are clinically extremely vulnerable at https://tinyurl.com/s5pc7wh
---
Accessing dental care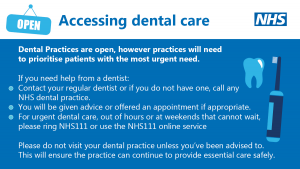 NHS dentists across the North East are prioritising dental care for those who require immediate attention. Patients requiring an urgent appointment should be offered the next available slot, whether or not they have been treated on the NHS previously at the practice.
Strict infection control procedures have to take place between appointments and this reduces the number of patients that dentists can treat on a daily basis. As a result routine dental care, such as dental check-ups, may not be available at this time.
The measures are expected to remain in place regardless of any local lockdown restrictions, so patients can be assured that their urgent dental needs will be met.
What's been your experience of dental care in recent months?
Please let us know by completing our 'Because we all care' survey at https://tinyurl.com/because2020
If you have sought NHS dental treatment in the last seven months and have a specific experience you would like to share, you can also email our Volunteer and Outreach Co-ordinator, Jacqui Thompson, on jacqui@healthwatchnewcastle.org.uk or text/WhatsApp/voice call 07538 857 627.
---
If you need urgent help with your mental health or learning disability
If you need urgent help with your mental health right now and live in Newcastle or Gateshead please call:
Adults — 0800 652 2863
Children and young people — 0800 652 2864
Phone lines are open for open to all, 24 hours a day.
For more information on NHS support visit www.cntw.nhs.uk/need-help-now
---
Finding cancer early saves lives
Although the number of urgent cancer referrals is back up to 85% of pre-COVID levels, there are still some people who may have worrying symptoms and are not contacting their GP.
If you've had unexplained blood that doesn't come from an obvious injury, an unexplained lump, weight loss which feels significant to you or an unexplained pain that lasts three weeks or more, it could be a sign of cancer. It's probably nothing serious, but finding cancer early makes it more treatable, so do please speak to your GP. Your NHS is there to see you, safely.
Find out more about symptoms at www.nhs.uk/conditions/cancer/symptoms
---
Volunteer to help find the vaccine for COVID-19
We mentioned in last month's newsletter that several vaccines for COVID-19 are being developed, but only large scale studies can give researchers information about how effective they are.
The National Institute for Health Research is working with the NHS and aims to recruit people onto a volunteer register. This allows people to be put in touch with vaccine studies in the coming months.
Researchers say 270,000 people across the UK have signed up so far but thousands more are needed, particularly from groups more vulnerable to COVID-19.
More people from black and Asian backgrounds are being urged to volunteer to help ensure potential coronavirus vaccines work for everyone. More people over the age of 65 or with chronic diseases are also needed.
Take part at https://bepartofresearch.nihr.ac.uk
---
Get fit in your own home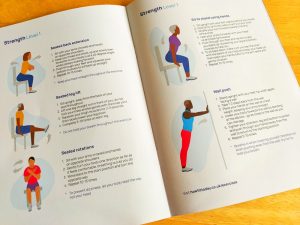 HowFit is a new exercise programme from the NHS that helps you keep fit in the comfort of your own home. especially when it's difficult to get out. It's been designed in conjunction with a personal trainer and professional physiotherapists and doesn't need any special equipment.
Everyone in our area is receiving an NHS HowFit booklet through their door. Online videos and animations demonstrate how to do the exercises.
Find out more at www.healthwatchnewcastle.org.uk/news/howfit
---
Experiencing domestic abuse?
A joint investigation by the BBC's Panorama programme and Women's Aid during the summer found that two-thirds of women in abusive relationships had suffered increased violence from their partners during the pandemic.
If you're experiencing domestic abuse, or feel at risk, help is on hand. Call the 24-hour National Domestic Abuse Helpline on Freephone 0808 2000 247 or go to www.nationaldahelpline.org.uk (for women and children). You can also chat live online Monday to Friday, 3pm – 6pm.
Men experiencing domestic abuse can find help at https://mensadviceline.org.uk
Boots pharmacies have safe spaces. Ask staff at the counter to use the consultation room. Once inside, you will find the 24-hour national domestic abuse helpline, the men's advice line and other resources.
If you are in immediate danger always call 999 and ask for the police. If you can't speak dial +55 when prompted by the operator (mobiles only).
---
Shape the future of health research — enter the Multiverse Lab
People living north of the Tyne are being asked to shape the future of health research by taking part in an interactive online experience called Multiverse Lab.
Multiverse Lab will gather the opinions of 2,000 people to find out what matters to local people when it comes to their health.
Through a specially designed website, Multiverse Lab asks visitors the question, 'What is the health breakthrough you hope to see in your lifetime?'
Read more at https://healthwatchgateshead.co.uk/news/multiverse-lab
---
Printing this newsletter
We're currently unable to provide copies of this newsletter. If you would like a version you can print out you can find copies of all our recent newsletters at www.healthwatchnewcastle.org.uk/about-us/resources