Healthwatch North Tyneside News – 12 August 2020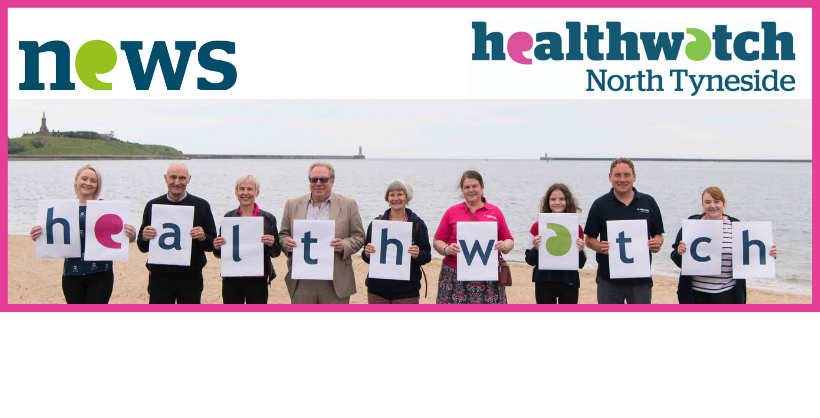 Have your say on health and care services during coronavirus
Your views can help improve services
We want to hear your views and feedback on your health and care experiences during the coronavirus outbreak. As lockdown restrictions ease and NHS and other health and care services plan their delivery, we want to make sure local people's voices are heard to help improve services for everyone who uses them.
Give your views online here or go to one of our surveys below to have your say.
You can also contact Healthwatch to ask for printed information and a freepost envelope or text or telephone 0191 263 5321 to arrange a call back from one of the Healthwatch team, Monday and Friday 10am to 3pm.
Online focus group – we are looking at new ways to hear your views and experiences and have arranged our first online focus group on Tuesday 18 August from 10 to 11.30am. If you are interested in joining the group please email info@hwnt.co.uk Look out for future events and surveys on our facebook and twitter pages.
Are you a carer?
To ensure carers' views are taken into account, North Tyneside Carers' Centre and Healthwatch North Tyneside want to hear about your experiences during the coronavirus outbreak. Find out more and have your say
 
Care homes
If you have a family member or friend in a care home in North Tyneside we want to hear your views and experiences at this crucial time. We want to hear about your experiences of care homes in the early stages of the pandemic, while the pandemic was at its height and more recently as care homes open up visiting.  Find out more and have your say
 
Experience of hospital discharge during the pandemic?
To make room for the sudden need for more beds as a result of the coronavirus, the NHS changed the way it discharged people from hospital. But what was your experience? We are working with Heathwatch England to gather people's views and experiences of hospital discharge. Find out more and have your say
Can your organisation help?
If you are a local organisation, we want to hear how your clients have been affected by the changes in the way services are delivered and what key points you feel should be shared with decision makers to influence future service provision.
We are interested in gathering people's feedback about health and care services generally rather than an evaluation of your organisation's activities. Go to our online form
Have your say – go to our online contact forms and surveys
---
Accessing primary care – the future
What you said
We asked people in North Tyneside what they wanted to see in primary care services in the future. People told us about using digital technology to have some consultations and appointments as well as what they want to see in a triage process. Find out more
Go to our report 'Accessing primary care – the future'
---
Join our Healthwatch team
Communications and Engagement Officer
We are looking for an experienced communications professional to lead our external communications activity including campaigns, marketing material and brand management, digital channels, media relations and networking.
Closing date for applications – Sunday 6 September.
Find out more about this job and download an application form.
 
Join our Board of Trustees
Can you use your knowledge and skills to help to improve health and social care services for people in North Tyneside?
We want to hear from anyone who wants to make a real difference to people's lives in North Tyneside. You should have the skills and experience to help us deliver our aims and at least 3 hours a month available to volunteer with us. Find out more about this role
If you would like an informal discussion about either of these roles please contact Paul Jones on p.jones@hwnt.co.uk or 0191 263 5321.
---
Annual Report 2019/20
Last year 2,809 people told us about their experiences of health and care services
Our annual report includes lots of interesting information about our work and what we achieved before the coronavirus pandemic when we had to pause much of our activities and refocus. It also sets out our plans for the coming year.
To find out more you can watch our short film about what we did last year or download our full report
---
New website for Healthwatch
We've given our website a refresh
We hope you like it:
Please let us know if you find any broken links, missing or out of date information and we will put it right as soon as we can, email info@hwnt.co.uk