Healthwatch #BecauseWeAllCare Campaign – Call to action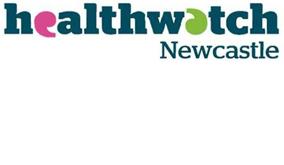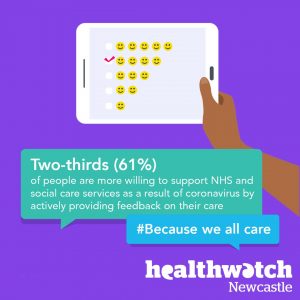 Dear Colleague
We all care about our health and social care services.
That's why we're asking you to support the new campaign we are participating in, alongside Healthwatch England and the Care Quality Commission — #BecauseWeAllCare.
This encourages the public to share their experiences, both good and bad, to help improve services. As well as promoting the benefits of giving feedback and why it's so important, it will also be an opportunity for you to collect people's views on key local issues.
Why should you get involved?
As health and social care services work to provide the best possible care during COVID-19, public feedback can play a crucial role to help us identify and address issues that affect the quality of people's care.
Together we can help services across Newcastle improve the care they provide now and in the future. We're here to listen and act on public feedback to improve care for you and others – helping patients, key workers, and our communities.
How can you encourage people to share their experiences?
Support the campaign
Following an experience with a health or social care service, patients and carers can share their feedback – both positive and negative – with us or the CQC by completing an online form.
By encouraging your followers on social media to complete the survey healthwatch.co.uk/because-we-all-care
By retweeting or reposting content on social media wherever you see the #BecauseWeAllCare hashtag
Best wishes
The Healthwatch Newcastle team