Healthwatch North Tyneside News – 27 February 2020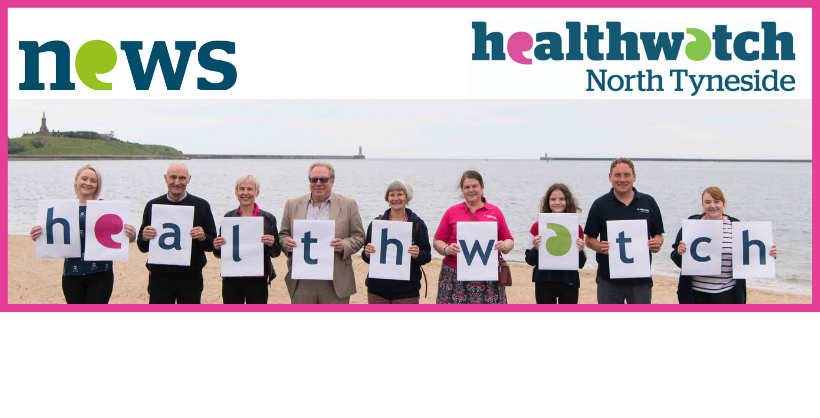 Thank you for doing our Healthwatch survey
Our 'What matters to you?' annual survey is now closed.
Thank you to everyone who completed our survey and congratulations to
our prize draw winner, Megan Sanderson
from Preston Grange. 
Over 600 residents and users of health and social care services in North Tyneside completed the survey. We are analysing the information and using it to identify priorities for the coming year as well as raising issues with service providers and decision makers. In April we'll be publishing a summary of what people told us in our annual survey and other engagement work, alongside our priorities.
Welcoming Mary to our staff team
Many of you will recognise our new Insight and Engagement Officer, Mary Low, who has volunteered with Healthwatch over the past year. Mary joined the team on 24 February and her first task is to complete the reports on our recent visits to GP practices.
To contact Mary email
m.low@healthwatchnorthtyneside.co.uk
In February we said farewell and good luck to Joanne Brown, our Research and Engagement Officer. Jo has left for a new job with homelessness charity,
Groundswell
.
We're looking for new trustees
Closing date extended to 15 March
We want to hear from anyone who wants to make a real difference to people's lives in North Tyneside. You should have the skills and experience to help us deliver our aims and at least 3 hours a month available to volunteer with us. 
As a trustee you will play a vital role in setting our direction, overseeing our work and working with health and social care providers to improve services.
Find out more about what is involved
 or call Paul Jones, Director, on 0191 263 5321, email
p.jones@hwnt.co.uk
Have your say
Happy to Chat
Happy to Chat brings together people and organisations for a chat and a cuppa. Following the successful launch in January there will be regular sessions at the Beacon Centre, North Shields and Whitley Bay Big Local. Our volunteers, Colin and Cheryl, are supporting the Happy to Chat sessions for Healthwatch North Tyneside.
Meet Colin and Cheryl at the next Happy to Chat session on Tuesday 10 March from 10 to 12 at the Beacon Centre, North Shields.
Find out more here
To find out more about Happy to Chat and how you could get involved contact Josie on  0191 643 2632 or go to North Tyneside VODA website
Celebrating International Women's Day
Women and girls from across North Tyneside are invited to celebrate International Women's Day. There will be free arts and crafts, information and a chance to try weight lifting and spinning. Look out for Amanda, our Volunteer Coordinator at the event on:
Wednesday 11 March from 6.30 to 8.30pm at The Parks Sports Centre, North Shields
This event is supported by Active North Tyneside, Phoenix Detached Youth, De Paul, Tyneside Women's Voices, Harbour and Acorns.
Find out more
North Tyneside Cancer Plan
Patients, carers and anyone interested in cancer services are invited to get involved in the development of a North Tyneside Cancer Plan. The plan has been developed specifically for the people of North Tyneside and aims to increase prevention, speed up diagnosis, improve the experience of patients and help people living with and beyond the disease.
Drop in at any of these sessions:
Wednesday 25 March from 9.30am to 12 at the Oxford Centre, Longbenton
Monday 30 March from 9.30am to 12 at Meadow Well Connected, North Shields
Monday 30 March from 1.30 to 4pm at Howdon Community Centre
To book a place on any session, please contact Donna Sample on 0191 293 1140 or email nt.cancerplan@nhs.net
Download more information
How would you improve Newcastle Hospitals website?
Newcastle upon Tyne Hospitals NHS Foundation Trust wants to hear what people would like from the hospital website. Your feedback will be used to design a better website for you. Please respond by the end of March.
Go to the online survey
---
News and resources
Making communities dementia friendly
North Tyneside Council, supported by Alzheimer's Society, is inviting groups, businesses and local people to information events to find out how to make our community more dementia friendly:
Thursday 5 March from 3 to 5pm at the Linksill Centre, North Shields
Tuesday 17 March from 3 to 5pm at Whitley Bay Big Local
Attendance is free but places are limited so please register your interest by emailing felicity.shoesmith@northtyneside.gov.uk
Download more information about the information sessions
Carers Connecting
Do you have a family member or friend who depends on you?
Do you struggle to find time to care for yourself?
North Tyneside Carers' Centre are holding free wellbeing sessions for carers during March.
Go to North Tyneside Carers Centre events for more information
Coronavirus – where to go for information
These websites are updated as new advice and information is available:
The symptoms of coronavirus are:
a cough
a high temperature
shortness of breath
But these symptoms do not necessarily mean you have the illness. The symptoms are similar to other illnesses that are much more common, such as cold and flu. Go to the websites above for more information. NHS England advise you not go to a GP surgery, pharmacy or hospital. Call 111, stay indoors and avoid close contact with other people.
What matters to people using A&E
To inform NHS England's Clinical Review of Standards, Healthwatch England have been helping to understand the impact of potential new targets by finding out what matters most to patients and the public when it comes to A&E.
This new briefing illustrates the chain of factors which impact on people's experiences in A&E, based on 330 patient interviews carried out by local Healthwatch in six of the 14 hospitals testing proposed changes to A&E targets.
Go to Healthwatch England to find out more
---
Latest reports from the CQC
The Care Quality Commission has published new inspection reports for these care homes in North Tyneside:
If you have something to say about a care home in North Tyneside you can give your feedback online to Healthwatch through our feedback centre
---
Hear my voice, North Tyneside
Experience of your GP practice
Hear my Voice North Tyneside is a new project being launched by North Tyneside Clinical Commissioning Group (CCG) which enables patients, residents, family members, carers and staff to describe their experience of receiving and delivering health care across North Tyneside. This is one of the ways in which the CCG can strengthen a culture of partnership and collaborative working by integrating the feedback they receive into shaping and delivering services for the future.
The CCG will be launching a range of surveys asking for your experiences across a range different healthcare settings. The first survey is asking specifically about your experience accessing and receiving care from your GP practice.
Please take a few minutes to complete the questionnaire as your experiences are invaluable in service planning.