New Age UK North Tyneside groups – starting June 2019

Hi,
I just wanted to let you know about a couple of new groups we have starting in North Shields and Whitley Bay in the coming weeks.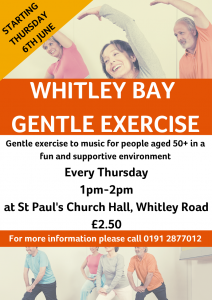 Our new gentle exercise group in Whitley Bay will run on Thursdays, starting on 6 June.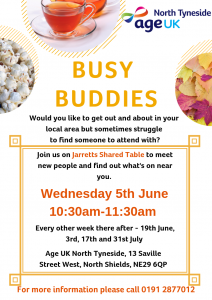 Our Busy Buddies in North Shields will run every other week, starting on Wednesday 5 June.
Please let me know if you have any questions about either group.
Hope you are well.
Emily
Regards
Emily Houlder
Volunteer and Community Coordinator
Age UK North Tyneside
Bradbury Centre
13 Saville Street West
North Shields
NE29 6QP
0191 2877012
Emily.Houlder@ageuknorthtyneside.org.uk
www.ageuk.org.uk/northtyneside