New NT LIFE amateur mindful photography group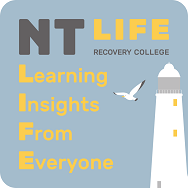 Snap Out Of It! is a weekly amateur mindful photography group which encourages you to explore your surroundings, notice and appreciate the unseen, become a tourist in your own neighbourhood and then collaborate as part of a team which each week shares and discusses its images.
What's it got to do with mental health? Mindfulness – capturing the moment. Grounding – giving space to both see and appreciate more of the world around us. Use of all 5 senses – a DBT skill. Seeing different perspective and changing focus. Self expression and exploration- learn more about what makes you tick.
The group meets once a week for 2 hours (online or in person) with fun weekly challenges based on various themes. This is a laid back, friendly bunch with no pressure or judgement – everyone decides what works for them. We share the images and where comfortable talk about what we see, what they mean and how they make us feel. Everyone's perspective is unique, valued and correct. No judgement. Read more here. To sign up email ntlife@voda.org.uk.
More activities and groups are in the pipeline. Please keep an eye out on our Facebook page for updates.