On our 25th Anniversary, join our fight for young people's mental health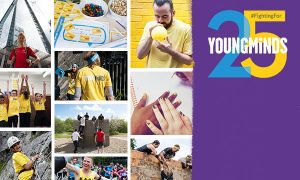 This year we turn 25.
That's 25 years of seeing many changes in mental health support for children and young people. And now, the spotlight is on young people's mental health like never before.
But if you need help, it's still much too hard to find. When we spoke to more than 1,600 parents who've looked for mental health support for their children, 84% said that they'd found it difficult to get the help they needed.
So in our 25th year, what we do has never been more urgent or necessary. We are leading the fight for a future where all young minds are supported through life, whatever the challenges. And we're here to make sure they get the best possible mental health support and have the resilience to overcome life's difficulties.
With your help, this year we want to raise £2.5m to continue our hard work.
Join Our Fight
Join our fight and visit our 25th Anniversary page, with our fundraising kit and list of events you can take part in this year.
Whichever young mind you are #FightingFor, join us.
YoungMinds exists so that young people have the strongest possible voice in improving their mental health. We need your help to make sure that voice is heard.