Online cuppa and a chat with Charly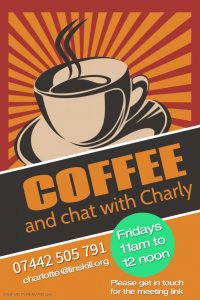 Happy afternoon,
I've been thinking of all the people who I usually see for a catch up in the corridors or a cuppa in my office and wondered if anyone fancied an online chat?  Download the poster for a 'Chat with Charly' on Fridays at 11am which will work via an online programme called ZOOM and all you need is a phone/tablet/laptop/PC that has a camera/microphone – so you can see/hear me and anyone else in the chat.  I've stolen the idea from the Woollies weekly Zoom chat and some other groups within the community development team are using Zoom.
If you fancy trying it out please get back in touch and i'll send you a link for the meeting on Fridays at 11am, whilst we're all at home.  Depending on how many people sign in I might do a quiz!
Thanks for having a read…
See you Friday for a cuppa!
Charly Mulvaney
Older engagement worker
https://www.facebook.com/LinskillEngage/
Linskill and North Tyneside Community Development Trust, Linskill Centre, Linskill Terrace, North Shields, Tyne and Wear, NE30 2AY.
Monday to Thursday 9-3pm and Friday 9-12 noon
T: 07442 505 791
Charity No: 1119143
Company No: 04827255