Heads & Tales Mental Health Heritage Project Newsletter & Upcoming Events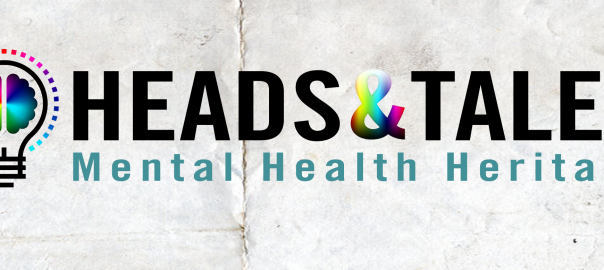 The Heads and Tales Newsletter is here!
Welcome to our newsletter for our Mental Health Heritage project HEADS & TALES, supported and funded by the Heritage Lottery Fund and through the great contribution of National lottery players.
Heads & Tales is a two-year project led and shaped by participants to explore, rebalance, and celebrate the voice of people experiencing mental health conditions. We're aiming to develop a new archive with diverse perspectives of mental health featuring creative and new material, narratives and stories alongside reflections of contemporary and historic items from local museums and archives.
We have designed a programme that is based on equality, support and cohesion. Please see our full list of events and activity http://www.headntales.uk/programme . To deliver such an extensive programme, aims and outcomes we have also appointed a Steering group to make sure that the voice of those experiencing Mental Health conditions is active and prominent in the project.
"We value Heritage as a positive force for personal development, education and positive social impact" Joanne Burke, Heads & Tales project manager.
Contents below:
Our research visit to the Wakefield Mental Health Museum
SPEAK OUT training Jan & May and opportunity to take part June 20th
Research and creative archive sessions with lead Artist Nelly Stravropoulou
ART & LIBERATION Exhibition @ The Holy Biscuit & artist call out
Research visit to the Wakefield Mental Health Museum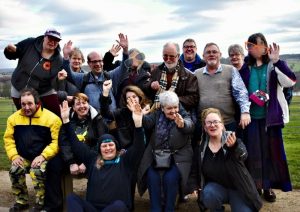 As part of our project we visited the Wakefield Mental Health Museum, a unique museum at the heart of the Fieldhead Hospital site, to inspire our participants in how mental health archives can be curated as well as sparkle conversations around mental health. The experience was "thought-provoking because the exhibition covered the good, the bad but also the habit of those using the hospital service" as commented by our participants.
What stood out from this intriguing visit was that the voices of users were well represented, especially those experiencing medical treatments which gave us the understanding of how mental health was conceived back through time.
One item impressed our visit particularly: "the boots made me feel sorry, and it must have been horrible wearing them because they had a lock on". It made us think about different methods of treatment and control through history and although these boots feel barbaric today back in the late 1800s these boots allowed patients to access the outdoors & gardens and at least a step away from confinement.
Another unique item in the Museum was the padded cell that was once used in the Wakefield Hospital. A few of our members had direct experience of similar padded rooms and the chance to enter this space once more felt quite empowering.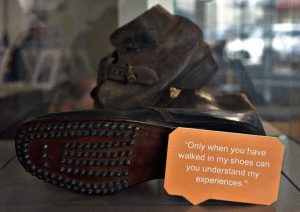 "They have got a modern-day version which is called an ankle tag!"  Participant of the trip
SPEAK OUT! training with Time to Change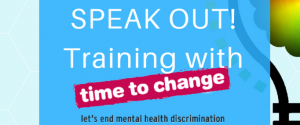 Thanks to our friends from Time to Change, a series of workshops provided the opportunity to empower our participants and to challenge stigma around experiencing mental health issues. We have delivered a set of exciting opportunities to learn skills, but also to build confidence to speak out about personal experiences of mental health problems in front of groups or audiences. A number of these unique and powerful stories will also be added to our archive and join the many voices featured sharing experience and challenging stigma.
"Speaking out has changed my life" 
"I felt less on my own in terms of mental health stress and history and I felt I was part of a much bigger picture"
BACK BY POPULAR DEMAND! We have programmed an extra FREE session on
Wed June 20th 11am-3pm @ North Tyneside Arts Studio
Booking essential please sign up through this link https://www.eventbrite.co.uk/e/speak-out-training-tickets-44366602703 or call Jo on 0191 209 4058
Research & Creative Archive workshops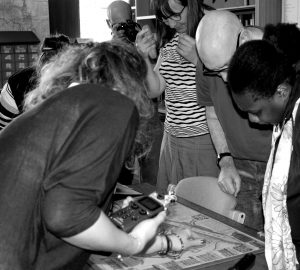 The Heads & Tales project is holding Research & Creative Archive workshops as part of the Artist in Residency programme, led by Nelly Stravropoulou. We are enabling participants by artistic means to capture contemporary and original perspectives on archival materials from the Tyne and Wear Archives at The Discovery Museum. Currently we are looking into our first two key themes of the importance of language and media, and treatments and medication in Mental Health. Looking back through time from the late 1800s on, we have been looking together at a range of items (newspaper cuttings, hospital records, hospital magazines, newsletters, building maps) which have enlightened us but also drawn attention to the importance of context of the time period. We have then had the opportunity to creatively responded to these archive items with the support of activities such as original photography, cut and paste, poster design, drawing and writing exercises.
We hold the Creative Archive Sessions every Monday until mid July then starting again from October 2018 at Chilli Studios and Discovery Museum. Everyone is welcomed!
For MORE INFORMATION  please see our webpage: http://www.headntales.uk/programme
Our creativity does not want to stop!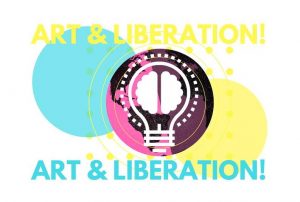 We are delivering an exhibition in September called "ART & LIBERATION!" which will take place at The Holy Biscuit 4th – 19th Sept, with a preview night on Monday 3rd Sept 6-8pm.
This exhibition will showcase ephemeral works focusing on the diverse and individual experiences of mental health conditions and artistic expression. We will showcase sketch books, notes, diaries and art showing the importance of creativity to the mind, focusing on the diverse and individual experiences of mental health conditions and artistic expression. Art as liberation!
ARTIST OPPORTUNITY! 
Open call out for submissions from artists at all levels please contact jo@chillistudios.co.uk for further details. You will be asked to fill in a submission form which you can find here https://goo.gl/forms/CnZRnJBxaDJeMfB33 and send in 1-3 images of your proposed work to exhibit to the email above.
Deadline for all applications July 23rd 6pm. If successful all artwork must be received before 6th August to prepare for exhibition.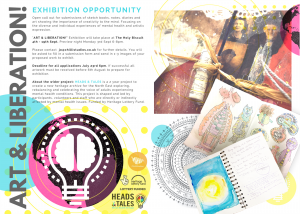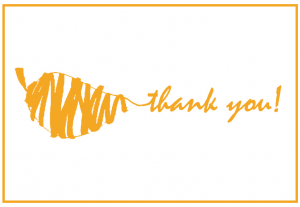 We would like to thank the broad participation and collaboration of our partners and we are grateful for the constant support received by our volunteers. To support our project, you can visit our website at http://www.headntales.uk 
Click here to download the FULL PROGRAMME!
or ask for a paper copy at Chilli Studios jo@chillistudios.co.uk 0191 209 4058