National Helplines launch #readytotalk campaign as lockdown eases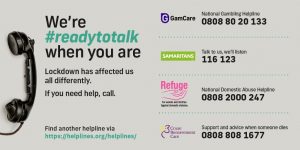 A group of the UK's leading helplines have today launched the #readytotalk campaign, encouraging people to seek support for problems that may have been aggravated as a result of the COVID-19 pandemic, or which they may not have spoken to anyone about while in lockdown.
As lockdown restrictions begin to ease, these organisations want to reassure the British public that whenever they are #readytotalk, their helplines are ready to listen.
Read more here.