YoungMinds 📢Share our NEW culturally-informed guides with young people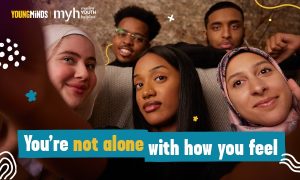 No young person should feel alone with their mental health
---
We know how important it is for young people to have mental health advice that takes into account their faith, and cultural background. For young Muslims in particular, finding tailored support can be challenging.  For a young person who's struggling, it can feel very difficult to talk about what you're going through and reach out for support especially if you're worried that the people around you won't understand. 
But we want young people to know that they don't have to struggle alone, and that they deserve to feel proud of who they are. Whoever they are. 
That's why we've teamed up with Muslim Youth Helpline, and worked directly with young Muslims from across the UK, to create a range of faith friendly information and mental health advice.