Altering Images of Mentality, together with UK groups and organisations supporting artists with lived experience of mental health problems, have produced calendars supporting World Mental Health Day and raising awareness of stigma and other issues. By getting involved, artists have their self-esteem and confidence raised; the process aims to be open and inclusive.
The calendars are a collection of different art pieces illustrating what those with mental health issues face. They bring into the limelight the problems faced by people with mental health issues by addressing the stigma and discrimination they experience in everyday life.
We are very grateful to the contributing organisations that support their artists; they all get a mention in the calendar and free, hard copies in time for Christmas!
Call for Images for the 2019 Calendar and Terms and Conditions 
From now on, we would love to see the images of your artwork, for free entry into the pool of images from which a panel of 3 judges (all artists) will select 13 for inclusion in the 2019 calendar.  There is plenty of time to create and photograph your art.  The closing date for the entry of images will be 23:59 on 30 September 2018 so there is time to be creative over the summer!  Artists who have an image chosen for inclusion in the calendar will be notified shortly after and will receive a hard copy.  The judges' decisions will be final. 
Images will be placed in AIM's Flickr album for the 2019 Calendar and in a Facebook folder. 
We would like artists to attach a titled image file to an e-mail, together with a completed questionnaire, which asks for details such as the name of the supporting group/organisation and some background information.  E-mail: info@aimmentalhealth.org.uk. Download the questionnaire here (complete a separate questionnaire for each image).  There will be no limit to the number of images submitted by an individual artist but only one piece of their artwork, best liked by the judges, will have a chance of inclusion in the calendar.
Photographs/images should be of high resolution, preferably between 1MB and 6.75MB in size (the AIM mail box accepts attachments up to a maximum of 10MB). 
Copyright of any submitted image remains with the artist/photographer.  Artwork must be all of the individual's/organisation's own work.  Individuals who submit work must own all rights to images and text used.  Do not send in any content that isn't yours or you don't have permission to use. By submitting your images you are consenting to allow AIM to distribute and publicise your images and to use them in exhibitions, in the calendar and on its web site, on Flickr, on social media and in promotions.  If you do not wish to grant these rights please do not send in any images. 
If there are people in your photographs, please ensure that you have asked their permission, and if they are under 18, their guardian's permission to have their image submitted. 
Background information may be used, together with selected images, on the AIM web site to add interest. Background information may include a 'back story' to the piece of art: its inspiration, its theme, the medium used, any comment that would be of interest. Artists may like to include some background information about themselves but please be careful to share only things you would be comfortable having published online. AIM will not use artists' names.  A .pdf of the calendar will be made available on the AIM web site for free download.
2018 Calendar

The download is free but a  donation to AIM would be welcome.  We are extremely grateful to all of the artists who contributed to this year's calendar and wish to apologise to groups and individuals who submitted images that did not feature in the calendar.
Thanks to Northumberland, Tyne and Wear NHS Foundation Trust for its generous grant towards the printing of the calendar.
Background Information to a few pieces of art
Colour Wave – Pencil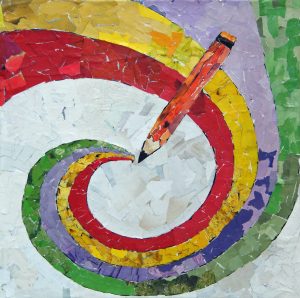 Hopewood Park's favourite pieces tend to be the group pieces where several people work on a large piece over several weeks. This was the case with the Colour Wave – Brush collage (see below), that went so well the group created the Colour Wave – Pencil collage afterwards.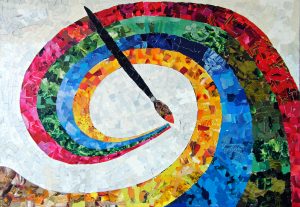 Neon Rainfall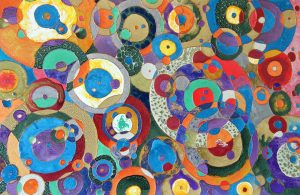 Another successful group project involving several people was the Neon Rainfall painting, where we predominantly used Pebeo Fantasy Prisme or Fantasy Moon paints for their lovely textures and effects.
Watercolour Landscapes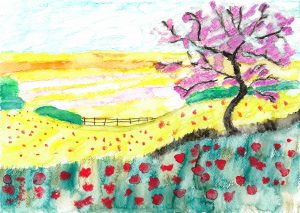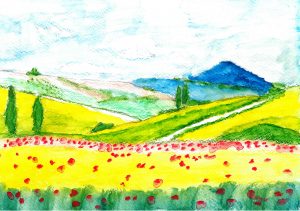 For the Watercolour Landscape project individual paintings were coloured with watercolour pencils and then brought to life with a wet brush.
Pink Flowers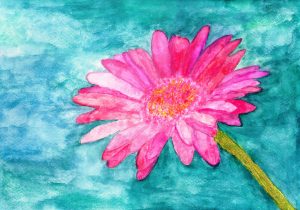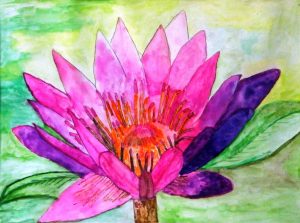 The Flower paintings were another themed project where service users used watercolour or watercolour pencils.
Family on the Beach & Sun and Palm
We, at Hopewood Park, have an ongoing project which we dip in and out of, where we are creating a collection of individually painted small canvases which will be placed side by side and displayed as a larger piece of work. The pieces Sun Canvas, Cross Abstract, Family on the Beach, repeating Circles and Sun and Palm are all part.
Cheeky Moo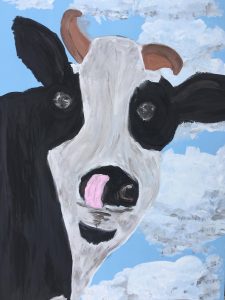 The artist has anxiety and depression and made this with her daughter.  She values the positive time they spend creating art together. 
The humour element was designed to help with depression.  The piece was made with poster paint on canvas and inspired by last year's AIM calendar.
"Something nice to look at in our lounge which brings us joy.  Pictures are windows on the world."
Pillar Pillar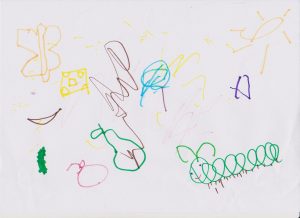 The 2 year old artist states that "the story 'The Very Hungry Caterpillar' makes me happy!" 
Past Calendars
Some themes covered in the 2015 calendar