Altering Images of Mentality, together with UK groups and organisations supporting artists with lived experience of mental health problems, have produced calendars supporting World Mental Health Day and raising awareness of stigma and other issues. By getting involved, artists have their self-esteem and confidence raised; the process aims to be open and inclusive.
The calendars are a collection of different art pieces illustrating what those with mental health issues face. They bring into the limelight the problems faced by people with mental health issues by addressing the stigma and discrimination they experience in everyday life.
Individual artists are not identified and waive copyright, as their images (and the complete calendar) are made available on the AIM web site for free download. However, we are very grateful to the contributing organisations that support their artists; they all get a mention in the calendar and free, hard copies in time for Christmas!
Call for Images for the 2018 Calendar
We would like to request new images for free entry into the pool of images from which the general public will vote for their favourite 13 during a short voting period in September 2017.  Images will be placed in AIM's Flickr album for the 2018 Calendar and in a Facebook folder.
Closing date for the entry of images: 23:59 on 31 August 2017
We would like artists to attach a titled image file to an e-mail, together with a completed questionnaire, which asks for details such as the name of the supporting group/organisation and some background information.  E-mail: info@aimmentalhealth.org.uk. Download the questionnaire here (complete a separate questionnaire for each image).  This year, there will be no limit to the number of images submitted by an individual artist but only their one, most voted for piece of artwork will have a chance of inclusion in the calendar.
Background information may be used, together with selected images, on the AIM web site to add interest. Background information may include a 'back story' to the piece of art: its inspiration, its theme, the medium used, any comment that would be of interest. Artists may like to include some background information about themselves but please be careful to share only things you would be comfortable having published online. AIM will not use artists' names.
World Mental Health Day 2016 Art Exhibition – St Nicholas Library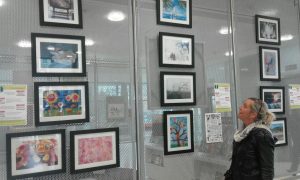 St Nicholas Hospital Library, Jubilee Road, Gosforth, Newcastle upon Tyne, NE3 3XT.
This Exhibition has been put together promoting WMHD by AIM.
All the work on display has been produced by organisations supporting people who are recovering from mental health problems from around the UK.  All the work shown has gone into our Arts Calendar for 2017.
All submitted images have been placed in AIM's Flickr album for the 2017 Calendar
You can also request a hard copy of the calendar by contacting Jim Armstrong on 0191 246 8688.
2017 Calendar
Follow the link below to download the latest calendar for free (however, a donation to AIM will be very much appreciated).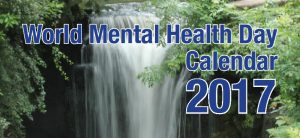 We are extremely grateful to all of the artists who contributed to this year's calendar and wish to apologise to groups and individuals who submitted images that did not feature in the calendar.
Thanks to Northumberland, Tyne and Wear NHS Foundation Trust for its generous grant towards the printing of the calendar.
Background Information to a few pieces of art
Jade Vine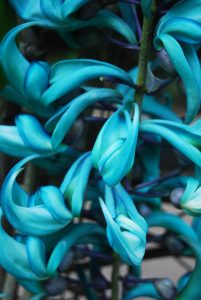 This photograph was taken in the Royal Botanical Gardens, Peradeniya, Sri Lanka.  Creating art is very cathartic for the photographer and helps her feel good and make sense of the world around her and how she feels about life.
Unveil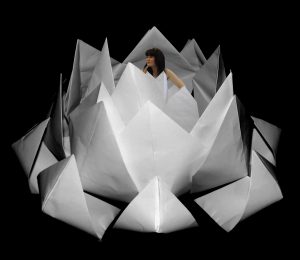 This piece of artwork explores hidden illnesses. The artist was diagnosed with CFS/ME in 2010.  Nobody on her degree course besides her tutors was aware of her illness until the last year of University.  This is a photograph of a paper dress she made using origami techniques.  She learnt origami when confined to her home due to the illness.
"Often we are made to hide how we are really feeling through fear of judgement."  The artist feels this piece touches upon many illnesses that we feel we should hide due to society.  The origami dress was kinetic and the petals would enclose around herself, the viewers were only able to see part of her.  Using paper during this project was also symbolic as paper can be weak or strong; this symbolised the emotions she goes through and how it feels to manage a hidden illness.
She has always seen and used art as a form of therapy and feels people should be able to express how they're feeling more freely.  This piece was created to raise awareness about hidden illnesses.
Solitude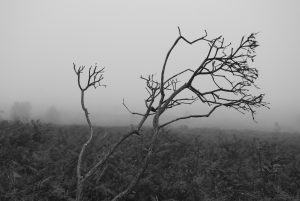 This photograph taken on Dartmoor.  It represents the feelings the artist had whilst being depressed but also that you can always find beauty in bad experiences.
Bed of Roses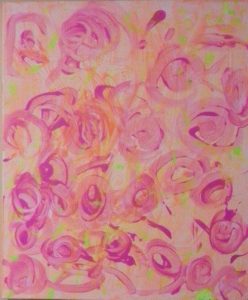 This piece of art was created with poster paint on canvas. The artist produced it together with her daughter and it hangs on their wall and brightens their lives.
Fashioning the artwork has helped the artist to create a positive outcome for her daughter.  "Through dark times it's nice to create a piece of art."
Past Calendars
Some themes covered in the 2015 calendar